Available flavors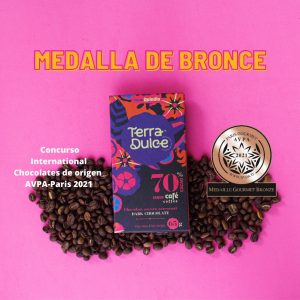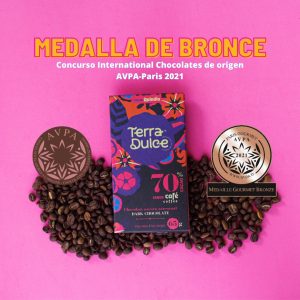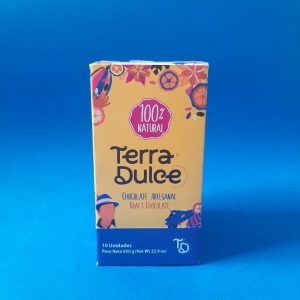 Terra Dulce is a Colombian chocolate company, located in the coffee region, dedicated to the manufacture of fine artisan chocolate in the bean to bar trend, in which each of the steps of the chocolate-making process is carefully controlled from the sowing of cocoa to its transformation into chocolate. We have a vision-oriented towards the sustainable development of the region (fair trade, no working children, supporting local entrepreneurship), in which there is a direct and dedicated relationship with cacao producers, ensuring that they receive fair payment for their work and production. Our products are made with the highest quality standards, using the best ingredients from the region, all from local suppliers.
Our Dark Chocolate Gift Box contains chocolates with high percentages of cacao, are sweetened with organic raw sugar cane or stevia, and certified natural ingredients. No refined sugar was added, nor lecithin, nor hydrogenated fat. All ingredients are 100% natural.  We are committed to offering healthy and sustainable chocolate.
We want to take care of our farmers, the environment, the people, we are working to live in a world where mindful eating is in our lives every day because you have to be aware of what are you eating, what are you leaving to our planet, how the economy is impacted by our daily actions, that´s why Terra Dulce has born.
Our chocolates are made with Colombian varieties of fine cacao that come from farms that use good agricultural practices, being one of the requirements to select the cacao producers we work with.
We use only two ingredients for our bars. The sweetener we use is organic raw cane sugar (panela) from Mesa Baja, a local company from the Colombian coffee region. The inclusions in our chocolate bars are dehydrated fruits from the FRUDAQUI brand, another company in the region that is Kosher certified, and pollen and macadamia grown in farms in the Quindío area. We also use high-grade certified essential oils (DOTERRA brand) to give natural flavors to our bars.
For our special bar that contains a blend of coffee and chocolate, we selected the best single-origin coffee from an association of small producers in Quindío that has a rating of 84 points on the SCAA scale. Concluding, all the ingredients used to make our chocolate bars are natural and local and most of them have high-quality certifications.
Terra Dulce Chocolates has a sustainability objective that is reflected in every stage of the chocolate-making process, from purchasing and supporting local suppliers, to promote collaborative economies, to the materials we use for our packaging; we do not use any type of plastic, we only use recyclable or environmentally friendly materials.
Click here to visit our store page to know more about us.